Our Mission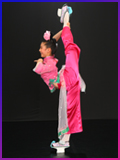 Promote and encourage cultural understanding by providing our community the opportunity to study and appreciate the traditions of Chinese dance and arts. Through these activities we will enrich the lives of those in our community.
Our Goal
To have our students and staff love dance. Through this love of dance prepare and train to be the best dancers in the San Francisco Bay Area.
Objectives
To provide the highest caliber dance teachers in the region. Through vigorous training have our students acknowledged as outstanding dancers through brilliant performances. Provide a safe and encouraging environment for all dancers to flourish.
我们的宗旨
以一流的师资和完善的管理为依托,
以优质的教学和精彩的表演为载体,
以培育湾区优秀的舞蹈人才为目标,
以弘扬和推广中国舞蹈艺术为宗旨。
让我们的生活更多姿更多彩,
让我们的社区更多元更和谐!