Dress Code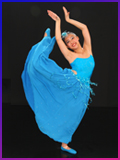 All students must wear appropriate dancewear. Students' appearance in class must be neat and clean at all times.
Dancewear is to be kept in good condition and laundered on a regular basis. Students are expected to observe good personal hygiene habits. Sweat pants/shorts and plastic pants/shorts may not be worn during any portion of the class. Tight fitting leg warmers are permitted at the barre only and at the teacher's discretion. Heavy jewelry is not allowed. Small stud earrings are acceptable. Visible body piercing or tattoos are not allowed. The teacher reserves the right to specify specific requirement on the dancewear that is appropriate for the dance. The teacher reserves the right to dismiss any student who does not comply with the dress code from the class.
Girls: Pink tights, leotard, and pink ballet slippers. Full tights and no cut offs. Leotard may be of any color. Please no halter style. Leotard shorts are not permitted. Pointe shoes must have ribbons and must be clean (high level ballet class only). Hair must be in a neat bun and no flyaway hair.
Boys: Black tights/slacks, white or black T-shirt, and black ballet slippers. Hair must be neat.
Adults: Appropriate dance attire, pink/black ballet slippers. Hair must be neat.
着装规定
所有学生必须在上课时穿着学校规定的舞蹈练功服(鞋),并以干净整洁的面貌出现在课堂上。
上课时不能穿绒衫裤和塑制裤,不能佩戴大的珠宝首饰(耳环等小的首饰是被允许的),刺青和纹身部分不能暴露在外面。在执教老师同意的前提下,保暖护腿只能在把杆练习时穿。根据不同类型舞蹈的需要,老师有权要求学生穿着相应的服装上课。如有学生不遵守学校和老师的规定着装,学校和老师有权开除该学生。
女生:粉色袜裤(须连袜子),紧身衣(颜色不限,非绳带型的,非平脚裤型的)和粉色芭蕾鞋。头发必须整洁的盘在脑后。脚尖鞋须有干净的带子(只适用芭蕾高级班)。
男生:黑色裤袜或松紧裤,白色或黑色汗衫,黑色芭蕾鞋,发型整洁。
成人:适合的舞蹈练功服,粉色或黑色芭蕾鞋,发型整洁。